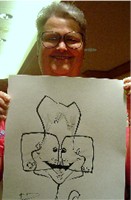 Biography
Lee P. Sauer


Lee P. Sauer has worked as an elementary school teacher, storekeeper, commercial fisherman, t-shirt artist, gravedigger, sign painter, reporter, editor, photographer and director of a university public relations department.

During the time he worked for newspapers, Sauer developed cartoon strips. One of his characters--The Recyclone, superhero of the recycling movement--appeared in several newspapers and eventually came to life on stage.

Currently, Sauer works full-time as a freelance writer and illustrator. As a writer, he produces press releases, magazine articles, book-length histories of companies and biographies. As an artist, he draws quick caricatures by the hour for party entertainment, creates studio art, and visits schools to teach cartoon classes.

Sauer is a member of the National Caricaturist Network and the Society of Children's Book Writers and Illustrators. He lives in Angola, IN, with his lovely daughters MacKenzie, Morgan and Avrie.