Merry Christmas and Happy New Year!
by Lee, MacKenzie, Morgan and Avrie Sauer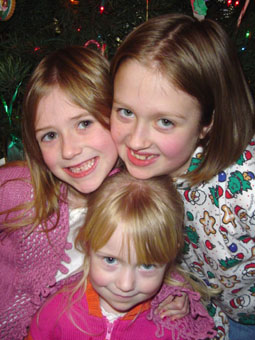 Morgan, top left, MacKenzie, top right, and Avrie pose in front of our Christmas tree.
Intro
Last year I sat down to write a Christmas letter several times, but I rejected each draft. My problem wasn't lack of material, but rather an overwhelming amount of it. And although we're a little sadder, I'm happy to report that the girls and I are also stronger and we're eagerly looking forward to the future.

Background

As most of you know, Suzann and I decided in August of 2002 to divorce. Although I believed our problems could be solved, when it became clear Suzann didn't agree, I actively participated in the divorce process. We used a common mediator and worked through property and custody issues ourselves. The decree became final July 25.

We're now a two-household family. I bought Suzann's half of our Prospect Street home and she bought a small house five blocks away. The girls sleep at each house on a weekly rotation, but they spend time with both parents almost daily. On "my" weeks, I take Avrie to Suzann's house to stay during the day and the two older girls see her in after-school care, which Suzannn has directed since last school year. On Suzann's weeks, the girls come to my house several nights a week while their mother finishes beauty school. (She should complete the course in January.) Although it involves driving back and forth, I don't think anyone involved would say our family arrangements are bad, just different. If pressed, I think both Suzann and I would say that, while we enjoy the heck out of our time with the girls, we also appreciate having some time off from parenting.

So, on to less extreme news. Where should I begin? The van-totaling accident? The van being stolen? The loss of my job? My new girlfriend?

Do I have your interest?

Good. Then let's begin with a recap of how each girl is growing.

Avrie Ann

Avrie Ann Sauer, 4

Avrie is simply a nice little girl. She tries very hard to do what she is asked to do. She is polite to a fault: I'm not sure I've ever heard a kid use the word "please" more. She likes to cuddle and snuggle. She says "I love you" often.


Watching her older sisters go to school each day was hard on Avrie, and she often pretended that she was in "pretty school." This year, her longings were fulfilled and she started pre school with Mrs. Julie Hewes. Where the other girls often have days of crying reluctance to attend class, Avrie goes happily. She often asks, "Do I go to pretty school today?" (Often the answer is no: she only goes Monday and Tuesday mornings.) After the Thanksgiving break, the pre school moved from the local Catholic church to the Methodist church, but that didn't phase Avrie a bit.


Although I'm sure she might not think so, Avrie is pretty lucky to have two older sisters. She plays with each of them in turn. (Who is whose friend is a daily, hourly or even quarter-hourly phenomena.) She especially enjoys playing that she is a princess, particularly Ariel from the Disney movie "Little Mermaid." Or she plays someone who is in dire need of rescue. The games take place on a couch or bed, and Avrie is reaching out her hand and pleading to be helped. Both older sisters use the word "cute" a lot when referring to Avrie, and it isn't unlikely for either of them to pick her up when she's crying, or cover her with a blanket when she's cold, or to fetch one of her frequently-requested Band Aids.


Avrie oftens casts Dad as Prince Eric. Luckily, Eric can continue to do dishes or work on the computer while fulfilling his princely duties.


When the girls are staying at Mom's house, Dad tries to have a special night with each girl. Avrie likes to go for walks in the woods, and we go to Winghaven, which is a nature preserve with a lake. Avrie loves to look for crawdads or fish, and put her feet in the water on hot days.


At night, it's a struggle to get Avrie to sleep in her own bed. She wants to go into Dad's bed, especially if she is scared. Scratching or, lately, drawing letters on her back is the best incentive to get her to start a night in her own room.


Morgan Leigh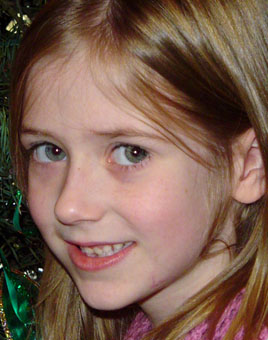 Morgan Leigh Sauer, 7

Morige had a tough year. When we sat the girls down to tell them about the divorce--the toughest thing I ever had to do, by the way--Morgie was the first to realize what we were saying and the one who took it hardest. She jumped around like her body was on fire and refused to be comforted. I was really concerned about her; she wasn't her usual happy self for several weeks. But, I'm happy to say, with a little time and lots of talks, she bounced back nicely. She's still the one to say, "I wish you and Mom didn't divorce," but she has her happy place once again.


Morgan's view of the world is a little skewed, mainly because she is almost never in a conventional, upright position. She can usually be found hanging upside down from a chair, couch or bed. If you sit next to her, she'll curl in your lap or sit on your shoulders. Her perspective is that of someone who dances when there is no music, hops when walking would work just as well, and undresses whether or not the timing is appropriate.


Morgan loves drawing. Her artwork is full of blue skies and people smiling broadly. Her pictures make a perfect wall covering for plaster that is cracked.


Now seven years old (Dec. 10) and in Mrs. Jill Thomas's first grade class, Morgan seems to have lots of friends and works hard on learning her "word wall words." Although she is a chirpy, birdlike creature at home, she is quiet and unsmilingly serious in school. But, when I walk down the hall to pick her up from after-school care, she bursts into a grin and runs down the hallway. It's an on-going gag for me to fall over backward upon collision.


Despite her seeming disconnect from the real world, Morgan is incredibly perceptive. She thinks deeply and has way too many questions, espcially about my special friend. In fact, romance seems to have a strong hold on Morgan, and she enjoys playing as if she has a boyfriend. She once tried French kissing her very surprised father.


When we turned Suzann's former sewing storage room into MacKenzie's bedroom, Morgan received a computer desk. (Each girl now has her own bedroom.) She keeps a journal, and she's very happy to spend time writing at her desk. I can easily foresee her making a living in some creative endeavor.


MacKenzie Jill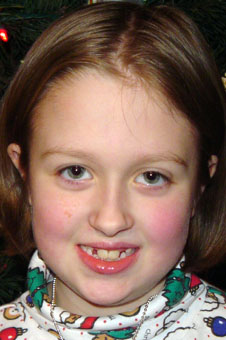 MacKenzie Jill Sauer, soon to be 9

MacKenzie is quickly becoming a young lady. She makes lists and reminds her father of whom needs to take which medicine. She does her third grade homework for Mrs. Marge Lilley with almost maniacal devotion. She loves to cook and can make a pretty mean deviled egg. She answers virtually all phone calls and continually checks the answering machine. Only 8 years old (9 on Jan. 2), she even asks "Am I chubby?," which says something about our society, but I'm not sure what. MacKenzie will make a great mother. She fulfills mothering roles with her little sisters and seems to enjoy doing so.


MacKenzie also is very much a little girl. At night when I check on her, she's hugging her favorite doll, "Bitty." Recently she began asking persistent questions about whether Santa is real. To avoid her bringing up this heresy in front of her sisters, early one morning when we were the only ones awake, I told MacKenzie the sad truth. She cried a little, then said she intended to keep on believing in Santa anyway. I said if she did, then I would, too.


This summer, MacKenzie, her friend and the friend's mother took a train to Chicago to visit the American Girl Store. It must be an amazing place. At one point, the girls had their picture taken, and it was immediately put onto a mock cover of "American Girl" magazine. The long trip, the exotic destination, the shopping, and the time spent with her friend made a magical combination. When MacKenzie returned home, she was beside herself with joy.


MacKenzie loves history and camping. We received doses of both during a summer trip to southern Indiana in late July. We visited Lincoln's Boyhood Home Memorial Park, mainly because Morgie is a confirmed Lincolnphile, but MacKenzie got even more out of the trip. With the help of a period re-enactor, she split a log fence rail. The sight of Lincoln's mother's grave, after we'd talked about milk sickness and the toll it took on pioneers, affected MacKenzie deeply.


LeeP.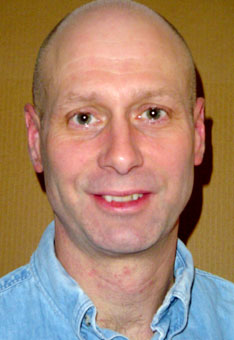 LeeP.

For the most part, I regret how quickly time passes by. However, 2003 won't end too early for me. It was certainly a tough year.


The divorce took its toll. Although the process went as smoothly as possible, it still caused a fundamental shift in how I view myself and life. I avoided a physical and emotional breakdown, but I felt lousy and my body thought of creative ways to scold me for the stress I put it through. One of my favorite defenses against pain became hour-long, full body massages from a strong-handed therapist at a local chiropractic clinic. Thank you, Heidi (I'm not making this name up), wherever you are.


In early December, Tri-State told me that, due to a reorganization, my job would be eliminated Jan. 2. The way they told me was typical of the administration: first, there was a job posting for my position, but with a different title; an hour later, my immediate boss announced that she had taken the new management position; then, a few days later, a job posting for a staff writer appeared (the job I would have fulfilled if I had stayed under the new management); just before quitting time that afternoon, the personnel director asked me into her office and told me I would no longer be needed. In many of the other "reorganizations" at the University, the person is escorted off campus immediately, so I refer to my release as a "nice firing."


I notice many similarities between my marriage and the Tri-State job. From outside appearances, they both seemed perfect matches. But I never felt comfortable in them, like wearing shoes on the wrong feet. No matter what I did, I could never make the significant other in these relationships happy. And, despite the fact that the relationships ended against my will, their terminations have brought me great waves of relief.


Christmas is not a good time of year to be job hunting. Unless I'm willing to move far away, which I'm not, there doesn't appear to be much in the way of a full-time, career-type jobs in the area. However, I've made interesting contacts about short-term projects that should get me through the first few months. If these go well, I'm considering a return to full-time freelancing.


I'll summarize the other bad events of this year: While crossing campus on a rainy day, a Tri-State student blew through a stop sign and his car collided with my van. The van was totaled (it didn't take much), so I put it up for sale. On the morning that the girls and I were going to get our Christmas tree, a man came to look at the van. Since going with him would also mean taking all three girls, I let him test drive the van alone. He never came back. The police found the van loaded with stolen goods in the middle of an Angola intersection. (It had run out of gas.)


Now, onto the happy stuff.


I bought a 1998 Ford Windstar van to replace the old van. Despite a very modest price, it seems almost like new and its early performance is very encouraging.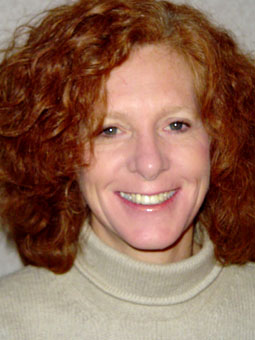 Karen Srunger

And, I officially have a girlfriend. During our summer camping trip, the girls and I visited the Indianapolis Children's Museum. While walking down steps, I recognized the woman going the opposite direction. Karen Sprunger and I both worked for Kendallville Publishing in the late 1980s and early 1990s. (I was a reporter for the Evening Star; Karen was the education coordinator for all of the newspapers owned by the parent company. We even worked together on a couple of projects. Does anyone remember the Recyclone?) Our conversation on that first re-meeting was general and didn't portend anything for the future.


When we returned from the trip, though, I sent an e-mail to the museum addressed to "Karen, the education person." For at least a month, I didn't get a reply and figured the message had been lost, or she'd received it and chose to ignore it. Then I received a message that said something like, "You found me, Recyclone. What's up?"


For several weeks we corresponded via e-mail, then we set our first date. We met halfway between Indy and Angola. It just so happened that the James Dean Festival was going on nearby, so we went to that.


Long story short, we've been seeing each other ever since. We seem to have a combatible blend of similarities and differences. Distance is a challenge, but we get together a surprising number of times. Our circumstances prevent the relationship from going further in the foreseeable future. I'm committed to this area because of the girls. Karen has two grown daughters in the Indy area and, just weeks ago, she became a grandmother. We aren't concerning ourselves with the future, but simply enjoying our time together.


Conclusion


As I write this, snow in huge, fluffy flakes are falling. The ground, which a few hours ago looked dull and uninteresting, is suddenly very beautiful. It must be Christmas time.


The girls and I are full of hope for the future. We hope your family is the same.


Happy 2004!


The Angola Sauers