Angola Sauers' Christmas Greetings
Intro
Merry Christmas and Happy New Year, family and friends! We hope this holiday season finds you happy and well. I just reread our Christmas letter from last year. Yikes! Luckily those challenges are over. Time has moved on and our troubles are mere specks on the horizon. So, in celebration, let's review the past year, shall we?

Background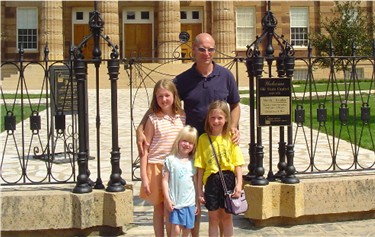 After its escape from the Minsk prison, the Yudropov family stops to relish its first moments of freedom. (Actually, it's us posing in front of the old Springfield (IL) courthouse.)

The highlights of our year involved camping and travel. In July, the girls and I continued our series of Lincoln-themed vacations with a trip to central Illinois. We camped in a great spot: deep within trees but only a short walk from all of the conveniences, including hot showers. Then, during each day, we'd visit an Old Abe site.

We took tours of courthouses in Mount Pulaski and Postville. In Springfield, we saw Lincoln's law office, the train station where he gave his famous farewell speech, the family home and the tomb. We highly recommend all of the sites, but the home and tomb are especially impressive. Around the Lincoln home, several blocks of surrounding houses have been restored to bring back the feel of the 1860s. The whole neighborhood is shady, peaceful and quiet. At one point, the girls and I had so much to think about, we just sat on the grass and talked. The tomb has the desired effect. It makes you feel as if you're in the presence of something huge, monumental, historical and sacred. It's very moving.

We spent one day in New Salem. If you don't know, that's the village Lincoln lived in as a young man. It's restored in such a cool way that it gave me stomach aches when I was 11. I didn't get stomach aches this time, but, boy, did I get nostalgic. By the way, it's recommended that you bring three cute, young girls because all of the period recreators spend special time with you.

Finally, we drove around Decatur, where my family lived from 1965-1969. I hadn't been back since we'd moved. Again, the feeling of nostalgia was overwhelming. I just couldn't take it all in. So we left.

Just a brief description, though: our old house at 1621 Union Street looks pretty good, although it's endured the kind of modernizing (such as vinyl siding) that I don't like. The neighborhood, however, hasn't fared as well. We drove around the house a few times, which prompted its current owners to run out to our van to try to scare us away. When they found we didn't mean any harm, they were nice enough, but such a greeting is still not like a visit from the Welcome Wagon. And you wonder why they feel it's necessary.

If we took a vote as to what was our most special time in Illinois, however, the girls would choose the day we took a break from touring and went swimming. We found a state park with a perfect beach and we swam for five hours.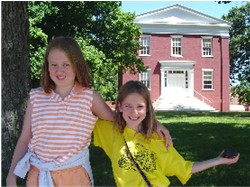 With her special powers of levitation, Kornika Petrokov lifts the capital of Yukranium while her assistant, Belov, holds her on the ground. (Actually, it's MacKenzie and Morgie posing in front of the Mount Pulaski courthouse.)

We had bookend camping outings at nearby Pokagon State Park. The spring session was most notable for the violent raccoon fight at night and the dusting of snow that greeted us in the morning. It was cold, but it made us feel like real campers.

The other Pokagon camping adventure took place in the fall. Late on a Saturday afternoon, we simply decided to load our tent and go. We got to the park at dusk and had a great campfire meal. Then we heard music, so we wandered over to check it out. We found a free square dance, so we jumped right in. We danced the whole night and had a great time.

For Thanksgiving, we visited my sister Sue and her family in Oak Ridge, TN. They always treat us right. We went to a children's museum and I got to go to a Tennessee football game with brother-in-law Jack and nephew Nick. And I should mention that the girls and I about fainted with joy during the turkey dinner. Hey, I'll volunteer for a trip like that any time.

Events other than travel and camping also marked our year. Around Avrie's fifth birthday in August, our friends who live in the country asked if we would be interested in taking in a cat that had been hanging around their place. We agreed and that's how Black Licorice came to be part of the family. Blackie is the stinkiest cat on God's green earth (he either has a sphincter infection or a warped sense of humor), but he is affectionate to a fault (That means he jumps on your lap even when you don't want him to).

This may not be a highlight of our year, but it's still fresh in our minds: The girls and I enjoyed making our Christmas video for Grandma and Grandpa so much two years ago that we decided to make another one this year. It's still in production, but the working title is, "How the Groinitch Found Kissmust."

Now, let's take a close-up look at each of our players . . .

Avrie Ann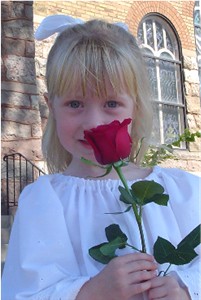 Sister Angelica Svenson enjoys the abbey garden. (Actually, it's Avrie at her baptism.)

Avrie is still a sweetheart, but in her never-ending battles with her big sisters--who like to pick on her--she's begun to assert her personality. She'll soon be a force to be reckoned with. "Bossy" might not be the exact term for her attitude, but she's certainly self confident and assertive.


The days of Avrie playing alone for hours are over. She asks several times each day if she can have a friend over. With both parents working in most of the families we know, that's a hard order to fill. Luckily, Blackie (that's Black Licorice, who was introduced earlier) is around. Avrie dresses Blackie, stuffs him into baby carriages and carries him in a variety of ways that look physically impossible. Blackie, meanwhile, acts as if he's on muscle relaxant. His body drips and slides into whatever torture Avrie dreams up.

The lack of friends on school days is not an indication of Avrie's popularity. She makes friends easily and almost immediately. It isn't unusual for us to go to a park and in five minutes Avrie will drag by the hand to me some running-nosed kid with open, weeping sores. She recites his name, his brothers' and sisters' names, his parents' names, and some especially embarrassing family details. I never ask what she shares about us.

Avrie enjoys pre-school with Mrs. Julie Hewes three days a week now--Wednesday, Thursday and Friday. Her best friend is Jenna.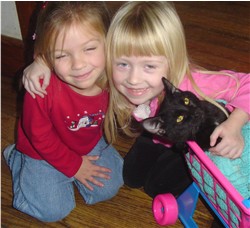 Our hospice staff try to make your last moments as pleasant as possible. (Actually, it's Jenna and Avrie playing with a very relaxed Blackie.)


On Sunday, Sept. 12, Avrie was baptized in the First Congregational Church of Angola. It took some talking to allay her fear that she'd have to die in front of the congregation. When she learned that a Barbie frozen custard cake would be served at the reception afterwards at my house, she was converted.

Avrie still spends most nights sleeping in Dad's bed. We have a strict family rule that she start out in her bed, but each night she "hears bats" and they scare her so much she can't get to sleep. Whether real or imaginary, the bats are her ticket to the big bed.


Morgan Leigh


Morgan lost two teeth recently and looks forward to losing more. It probably says something about her personality, but when she notices a vulnerable tooth, she wiggles and works it until it gets exasperated with all of the attention and virtually jumps out of her gums.

In the past, Morgan complained about being a middle child, but recently she's embraced her family rank. I've told her I always liked the position because you get to do stuff with both the older and younger siblings, and usually when there's parental punishments handed out, you can successfully blame someone else. I've recently found notes on my computer that say something to this effect: "Dear Dad, I like being the middle child. Love, Morgie."


In 1934, young Mildred Fenstemacher came in second for the role of Dorothy in "Wizard of Oz." (Actually, it's Morgie with her missing tooth.)

We went to see the local high school's production of "The Wizard of Oz." Judging from her reaction, I wouldn't be surprised if Morgan does some acting some day. I'm producing a TV ad for a local non-profit, anti-domestic violence group, so I asked Morgan to play a young victim of violence. She took the role very seriously and the result was good. And she really hams up as "Twinkles" in the Groinitch video, as you may see.

On her 8th birthday, I visited Morgan's school and drew caricatures of her classmates. Morgie led a discussion of what it's like to be an artist, and she told at length what each item in my art cart was for. After about a half hour, her teacher and I had to cut her off. The point is, she loves a crowd.

With that said, you might envision Morgan as a class clown, but she's actually very shy and quiet in school. Her teacher is Mrs. Wallace---better known as our friend and former neighbor, Shannon. And from all of Shannon's reports we hear that Morgan is extremely well behaved, and her grades are near perfect to boot.



MacKenzie Jill

Ebenezer Scrooch awaits Bob Crachit, who's late for work on Christmas Day. (Actually, it's MacKenzie pretending she's Abe Lincoln.)

I predict great things for MacKenzie. She has a real passion for life and interest in everything. She's very kind hearted and willing to help. She can be disturbingly mature and I'm a little embarrassed to say that she often reminds me of things I need to do. She has a strong mothering gene. I see shades of Grandma Louise and her Aunt Sue in her.

Baking is probably MacKenzie's current top activity. Last week, she made something in the oven three days in a row. The only time I'm allowed to help is to explain some ingredient or to reach something on a high shelf. MacKenzie has been cooking deviled eggs, omelets and hot dogs for a long time. Now she's added cookies, cakes and breads to her repertoire.

It was Morgan's interest in Lincoln that first prompted our summer vacation themes, but I believe MacKenzie may have overtaken her sister's interest in all things historical. She enjoys any story about practically anyone or anything and wants the big picture: why, why, why? When we visit the local library, which is often, MacKenzie comes home with an armful of books. She's inherited her father's habit of reading several books at once, and I find her current reading endeavors under her bed, in the bathroom, behind the couch and in the refrigerator. (Well, sometimes.)

MacKenzie is the person you want sitting next to you at a campfire. She soaks in the experience and truly enjoys it. She can appreciate a clear sky, a bright moon, a picture in the stars.

The challenge of being so sensitive is that MacKenzie worries, tends toward self criticism and can be jealous of others. Sometimes these feelings boil over in frustration, so we're working hard on her control. But when she's her own sweet self, she's like a piece of pecan pie.



LeeP.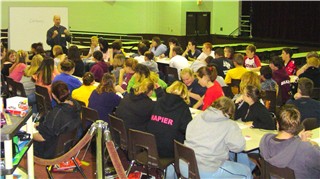 One of the inmates incites passions with an inflammatory speech right before the riot. (Actually, it's me giving a school program.)

I'm still working as a freelance writer and illustrator. Most of my money comes from caricaturing and giving school programs, but I'm also doing marketing, web work, magazine articles, gag cartoons, and handy man house repairs. That last category is something new I've added since my last full-time freelance adventure, and it's provided some good income. I've painted one garage, reroofed another and rebuilt a burned-down barbecue. I absolutely love the variety in my work, but freelancing is still a struggle financially. Of course, as always, I plan on and intend this upcoming year to be better.


My current projects include writing a children's novel and developing a President's Day program. The novel is about a young girl who learns she is the adopted daughter of the king of the handle rats (I didn't say it was a good novel); the president's program describes how our democracy was born through descriptions and caricatures of the first 16 presidents. (If you haven't checked out my website in a while, do so at www.wedrawsmiles.com.)

My bro Joel and I just completed our annual Packer weekend. It was a blast, as usual, even though the Pack played poorly and lost. The most memorable aspect was the @$(*^%&^ cold. It was eight degrees throughout the game. Try sitting in that kind of temperature for three hours with a cold beer in your hand. (No kidding: the beer would freeze in the neck of the bottle.)

I'm dating a very nice woman named Linda Lou Walls. We met when I drew her caricature at a hospital Christmas party in Muncie, IN. Later when the band was playing the last song, I asked her to dance. Then we went out for coffee afterwards. Because of the distance, we don't get to see each other often. But we seem to be very compatible and enjoy the heck out of just talking.



Epilogue


That's about it from Angola. I end by saying that the wonderful thing about challenges in your life is that you push everything that's unimportant aside and focus on what is really meaningful. Love in its many manifestations is what you find at the core, especially as it relates to family and friends.

We wish you all a happy holidays and we hope to see you soon!


Love, the Angola Sauers